Hostel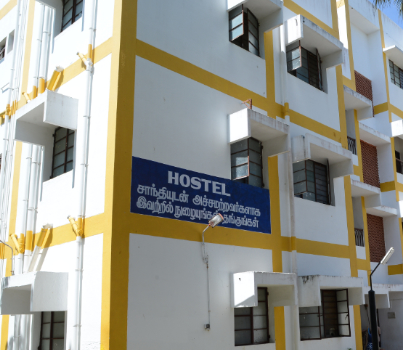 In order to cater to the needs of those outstation parents Rahmath School has decided to provide hostel facilities for their wards. Hostel facility is purely optional. Those whishing to avail themselves this opportunity must fulfill the following rules and regulations. We have wardens and a group of staff members in our hostel who act as foster parents.Teh approach of the teachers towards the students are empathetic, encouraging and counseling.
A photo of an adult leading a child must be pastedy.
.
Rules &

Regulations

Students who wish to stay in the hostel should apply in the prescribed application form. The hostel rules are as follows:
Students should occupy the room allotted by the Warden/ Deputy Warden.
Students are responsible for cleanliness of their room.
Students should take care of their valuables kept in their rooms. The school authorities will not be responsible for any loss of cash / valuables.
Students are instructed not to keep Jewellery, Camera, Mobile Phone or any other costly items inside the hostel rooms. Usage of MOBILE / WALKMAN / CAMERA/OTHER ELECTRONIC GADGETS inside the hostel is strictly prohibited.
Students are not permitted to stay in the hostel during school working hours without the permission from the Warden/Deputy Warden.
Parents are requested to give photos of authorized visitors / local guardians who alone will be permitted to visit the students in the hostel, and to do other formalities in the absence of parents.
Students can entertain the visitors on holidays from 11.00 A.M. to 6.00 P.M.
Guests / Visitors / Local Guardians are not permitted to enter / stay in the hostels.
Day scholars are not allowed to visit the hostels on any account.
Students will be permitted to go home only if the school is declared holidays continuously for three days or more.
Students who wish to go home during working days due to sickness or unforeseen circumstances or important functions or ceremonies must get prior permission from the Deputy Warden with a request from the parents either in person or through letter. The presence of local guardian is necessary in the absence of the parents.
For Laundry, only dhobis authorized by the school should be utilized.
On working days, students should leave the hostel before 8.20 a.m.
Hostel students who come late to the school and to the regular classes will be treated strictly and a fine of Rs. 50/- may be imposed on them.
Telephone &

Timings

Working Days & Holidays 10.00 A.M to 12.00 P.M
Hostel &

Mess

Rahmath Hostel is known for its discipline and routine. The hostel can accomodate 240 students. the hostel has a well - equipped mess providing vegetarian and Non - Vegetarian food. it has 24 hour backup power supply & water supply. The hostel is also equipped with purified drinking water.